Please always make an appointment.
Please always notice us at least 24 hours before when you want to cancel the appointment.

Spring is coming!
The operation hours will start from 12 PM-9:30 PM on weekdays (please appointment only)!
Welcome to
Appolodine

!

Learn more about us and what we offer by checking out our services list.



Book an appointment for any of our services online any time - day or night! We will confirm your appointment through e-mail when we receive it. If you need to get in touch during business hours, check our contact details.




Check out all deals we offer now!




NAIL ART GALLERY / STORE PHOTOS




Appolodine, is the combination of Appolo, the Greek god of art and wellness, and Aphrodite, Greek goddess of beauty and love.





"Love of beauty is taste, and the creation of beauty is art"




We strive to bring you both beauty and creativity.




We have the most joyful and beautiful atmosphere for our clients to ensure the best shopping experience possible.




Look good. Feel good. Do good are what we believe.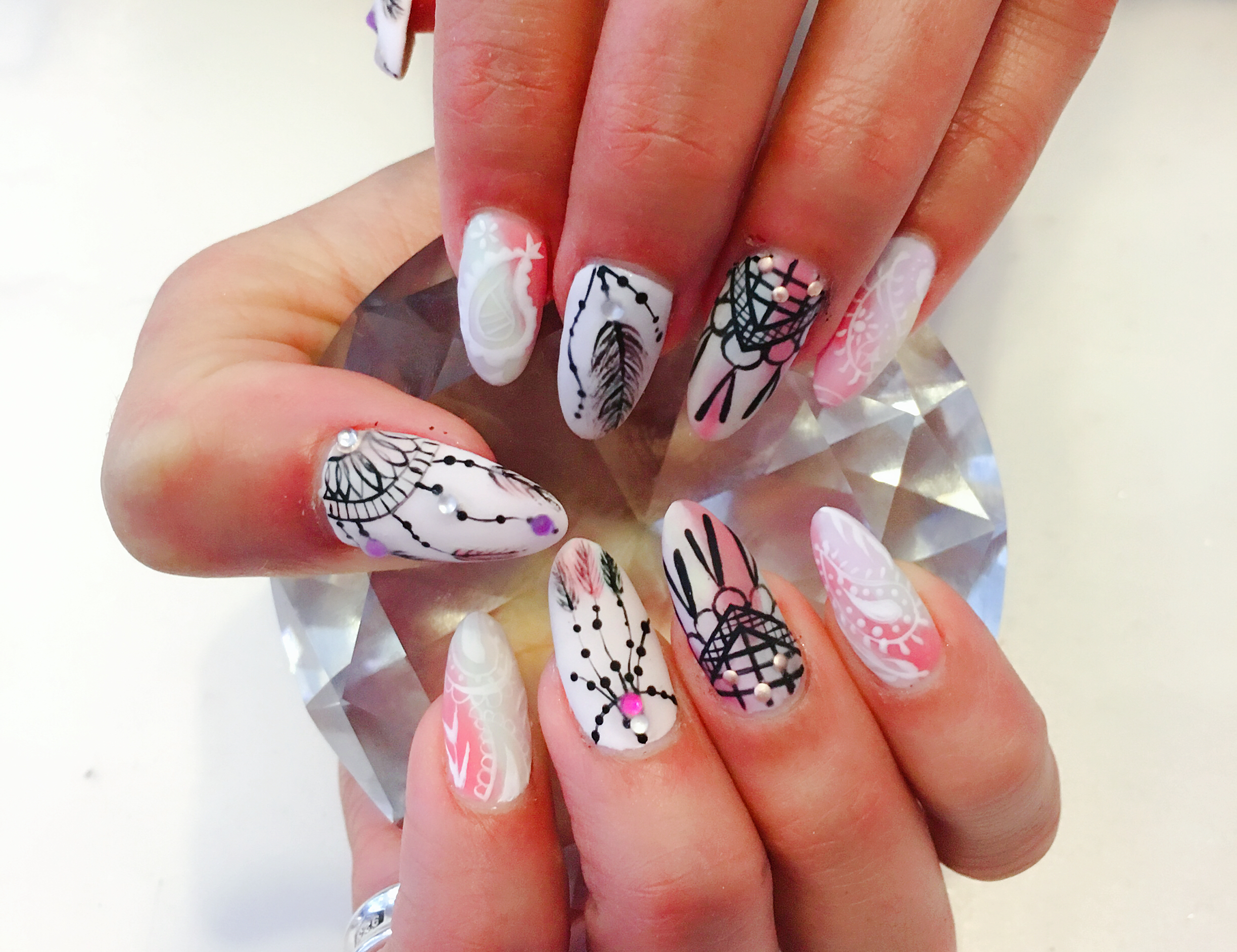 Want to get the most special nails for a special event?
Please consult with our nail artist by emailing us before visiting us, so we have a couple days to design your nails.
Please email us about your budget, what is the special event, what kind of style you want, what the main color you want to use. Also, if you want to let us know any other specific detail please included in email as well.

More nail art pictures, please follow us on Instagram@ Appolodine
Appointment Policy
Tardiness
Scheduled appointments have a 15 minute grace period to allow for traffic snarls or parking difficulties. If you anticipate that you will be later than 15 minutes, please call ahead to see if we have the availability to complete your service in full. One late client can throw off our entire schedule and cause our other clients to be late for their commitments. Therefore, if you arrive more than 15 minutes late, we reserve the right to refuse partial or complete services.

Cancellations
Appointments can be cancelled 24 hours in advance by calling 646-781-9987 or emailing: appolodinenail@gmail.com
Please give at least 24 hours notice so that we have the opportunity to offer your reserved time to another client on our waiting list. We understand that sometimes emergencies happen, and it's not always possible to give adequate notice when you can't make an appointment. However, be aware that if you repeatedly cancel appointments without proper notice, we reserve the right to ask for a non-refundable deposit to secure your next appointment.

No Shows
If you make an appointment that you don't cancel and don't show up for, we reserve the right to charge a $10 service fee in addition to requiring a non-refundable deposit on your next appointment.

Helpful Tips:
Please allow 1-1.5 hours for Manicure&Pedicure service
Please allow 1.5-2 hours for Gel Manicure&Pedicure service
Please allow 2 hours for Acrylic extension service

It actually takes a full

24 hours

for nail polish to fully dry. Thus, please wear open toed shoes for your pedicure

Minimum $20 for credit card transaction

Cash only for gratuity!!

We do not add thinner in our nail polish, so it takes longer time for the nail polish to dry

1 week guarantee: If your gel chipped in a week, please make sure you come back in a week. we cannot fix for you if you come back over a week.
We produce intricate works of art in the form of mani-pedis. Natural and acrylic nails are meticulously embellished with geometric designs, 3D jewels, and other artwork. At appolodine Nail & Beauty appreciates, it's all about the details. Of course, Appolodine's pampering processes are equally detailed, with options for soothing hand and foot massages and callus treatments.
Features and Amenities
Accepts Cash

Accepts Visa

Accepts Mastercard

Accepts Amex

Accepts Discover

Gift Cards Available

Walk-Ins Welcome

Kid Friendly

WiFi
Contact Information
Appolodine
phone: (646) 781-9987
e-mail: appolodinenail@gmail.com
Business Address
Appolodine
70 Ave A
New York, NY 10009
Business Hours
| | |
| --- | --- |
| Sunday | - |
| Monday | - |
| Tuesday | - |
| Wednesday | - |
| Thursday | - |
| Friday | - |
| Saturday | - |
We are hiring!!
P/F nail artist